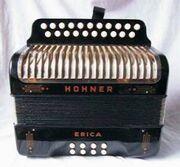 The firm of Hohner Musikinstrumente GmbH & Co. KG was founded by Mathias Hohner in Trossingen, Germany in 1857, as a manufacturer of harmonicas. They have long been a leader in production of Accordions and other free-reed instruments, including Concertina and Melodica, which is a mouth-blown keyboard instrument.
Instruments
Edit
Popular accordions by Hohner include the Ariette, the Corona, the Club, and Erica. Hohner has been a major innovator in the field of free-reed instrument development.
Promotion of music
Edit
They formed one of the first accordion orchestras, which toured Germany playing classical music in the 1920's [1]. Hohner's music school was founded in 1931 and despite suppression from the Nazi Regime went on to become a national academy in 1948 [2].
References
Edit
http://crosssound.com/CS00/CS00Instruments/CSTHEACCORDION/accordionENG.html
Cite error: <ref> tags exist, but no <references/> tag was found