There never seems to be a shortage of horror stories about taking accordions and concertinas on airplane trips. While we can't control the actions of security inspectors, we can take measures to prevent damage from rough handling.
Chemnitzers generally are too big to be taken as carry-on luggage, if they're in their hard case. Most cases have minimal padding, and don't fit the instrument snugly enough to prevent it from shifting around inside. This shifting can really cause damage.
If you're lucky enough to have a hard case from a larger instrument, you can fit it with extra foam padding. The photo shows an example where a double-reed instrument is carried in a case from a quad with 1" foam insulation fit all around.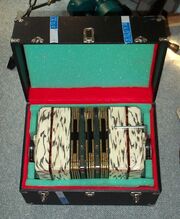 Accordions -- General
Edit
Its really important to make sure you secure your bass keys. Take off the base plate and pop a piece of inert foam (or even corrugated cardboard) under the bottom plate. Try pressing the bass keys - if you can;t move them then it should be ok.